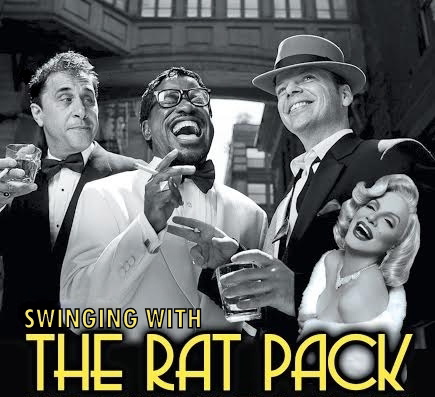 When Frank Sinatra, Dean Martin and Sammy Davis Jr. hit the stage, it was always a "swingin affair"! These enormously talented entertainers, known as "The Rat Pack", were the coolest cats to ever play Las Vegas…or anywhere for that matter!
Now, three skilled New York actors are bringing the songs, the laughs and the charisma of Frank, Dean and Sammy back to life in "Swinging with THE RAT PACK!"
This trio of professionals is highly skilled in improvisation and live interactive performance. When they perform, they not only capture the look and sound of Frank, Dean and Sammy, but their irresistible charm and chemistry as well!
Just like the original Rat Pack, the show is completely spontaneous and full of ad-libs…making it a must see…over and over again!
"Luck be a Lady", "That's Amore", "The Lady is a Tramp" and "Candy Man" are just some of the timeless classics you'll enjoy during the show along with a whole lotta ring-a-ding-ding!
"Swinging with THE RAT PACK!" is a fun-filled 90 minute musical celebration that re-creates the magic of The Rat Pack, with a very special guest appearance from Marilyn Monroe, and is as close as you can get to hanging out in the front row at the Copa!
"Swinging with THE RAT PACK!" has performed at various corporate events and private affairs throughout the country. This show has thrilled audiences in casinos in Atlantic City, BB King's in Times Square, Feinstein's at the Regency, Harrah's St. Louis and the Empire Casino at Yonkers Raceway. The Pack also flew to Dubai in the Middle East for a very special private performance which was a real "gasser"!